Our Path Forward
Our Path Forward
Our Path Forward
2021-2025 Strategic Plan

2021-2025 Strategic Plan
2021-2025 Strategic Plan
Explore Kennedy-King College's transformative five-year strategic plan for 2021-2025. Download the full plan below for more information.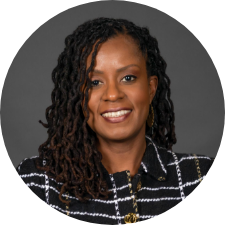 President, Kennedy-King College
It has been a year since the Kennedy-King College (KKC) Strategic Plan was published, a journey that the college began in December 2019.  Read More
Letter from the President
Dear Kennedy-King College Community Members & Friends:
It has been a year since the Kennedy-King College (KKC) Strategic Plan was published, a journey that the college began in December 2019. This critical document serves as a pivotal guide for Kennedy-King College's strategic focus and runs from 2021 until the end of 2025. KKC actively promotes student equity, access, and success and fosters continuous quality improvement and community engagement. KKC's strategic planning process involved shared decision-making and collaboration that included various key stakeholders, including students, faculty, staff, administrators, and community partners, to ensure inclusion and transparency. It was an honor to engage in this historical and collaborative process.
Since the plan's introduction, we have continued to push forward with the same excitement and momentum since the beginning of the planning process. Our students and community continue to be a top priority,thus motivating Kennedy-King College to remain firm in our commitments, as articulated in the KKC Strategic Plan and our new mission statement. The development and adoption of the new Kennedy-King College Mission Statement was an inclusive and democratic voting process and a significant source of pride for the entire KKC family. The final Mission Statement selected by the college community was the most authentic and impactful chosen from among several options.
KKC Mission Statement
Kennedy-King College transforms lives and communities through the power of education by providing accessible, culturally diverse, exceptional, and globally competitive programs that empower all learners to achieve their intellectual, social, and economic goals.
This mission statement guides KKC's vision and core values of learning, excellence, accessibility, respect, and integrity as a college for our students and community.
KKC Vision Statement
Kennedy-King College will offer rigorous academic programs, meet the needs of the local workforce, cultivate the values of sustainability, and demonstrate an awareness of its responsibilities in a global society.
As a college,we embarked on several strategic planning efforts to address challenges regarding enrollment and related actions and resources to foster measurable gains in student success. KKC built on many of the planning tenets from the Strategic Enrollment Management process to include a review of our SWOT (Strengths, Weaknesses, Opportunities, and Threats) analysis and environmental data scan, which contributed to the KKC Strategic Plan. The Strategic Planning Committee developed the five-year strategic plan using six strategic priorities that provided a planning framework to support district-wide and campus-level considerations.The strategic levers that guided our plan are 1) Exceptional Student Experience 2) Equity 3) Economic Responsiveness 4) Excellence 5) Collaboration and 6) Institutional Health.
Centers of Excellence at KKC
Dawson Technical Institute (DTI) is one of Kennedy-King Colleges academic Centers of Excellence. DTI has developed and shaped rewarding partnerships that lead to equitable student opportunities in construction. DTI has formed long-lasting opportunities for our students with articulation agreements, curriculum collaboration, scholarship, and employment opportunities.We have a new agreement with Mid-America Carpenters Regional Council that offers students a chance to earn their certificate in construction management in just 16 weeks. Additionally, we have successfully obtained grant opportunities at DTI, totaling nearly four million dollars over the past three years.These grant dollars assist in providing the latest technology and support to train students on the design, creation, and implementation of infrastructure, residential and civil construction projects. We have been able to provide financial support to students for tuition supplies and basic needs and professional development for faculty and staff to help increase outcomes for short-term workforce training.
While we have seen some success during the past year, the COVID-19 pandemic has affected our applied learning programs with challenges in scheduling course and lab work, filling instructional positions, and completing capital improvement planning projects. With many Career and Technical Education programs needing hands-on instruction, reducing our capacity and blending in remote learning modalities has been difficult. Continuous updating and revising of our COVID contingency plans to adhere to health and safety guidelines certainly have interrupted the timeline for some of our strategic planning.
The construction industry is growing, and the opportunity to respond to the workforce needs is possible with continued planning and resource generation. Consequently, the future for KKC's Dawson Technical Institute is promising. The interest in many of our programs has remained steady throughout the pandemic. We plan to address programs that have seen a declinewith strategic marketing and innovative program improvements using data to guide our developments.
Washburne Culinary and Hospitality Institute is also one of Kennedy-King College's Centers of Excellence. Washburne continues to provide an exceptional educational experience for its students. To better meet the various scheduling needs of students, Washburne has added an evening cohort, which has expanded enrollment opportunities and improved scheduling flexibility. In addition, Washburne has added new monthly Cooking Demonstrations which focus on international cuisine. This initiative has enhanced Washburne's capacity to introduce the World of Culinary Arts to a new group of students and community members interested in culinary arts as a means of personal gratification but not necessarily interested in pursuing a degree. There has been a demand for such informal culinary arts offerings for a while, and we are incredibly pleased that Washburnecan finally meet this community request.
The Bar and Beverage Industry has identified a workforce gap for several years. KKC is excited that Washburne is effectively responding to this workforce development need. Washburne developed and implemented a new Bar and Beverage Management Degree Program, collaborating with corporate partner Beam Suntory. In addition, Washburne has spearheaded apprenticeship programs with Advocate Health Care and the Greater Chicagoland Food Depository. Such initiatives further enhance Washburne students' capacity to gain industry insight and secure employment opportunities.
It will come as no surprise that Washburne, via its Hospitality programs, has a strong understanding of customer service best practices.Consequently, Washburne's Hospitality faculty created and presented a campus-wide Customer Service initiative to improve our ability to serve students and increase student satisfaction and retention. The Washburne Culinary and Hospitality Institute continues to be an outstanding partner to the community.Washburne's commitment to the Englewood community is demonstrated through its work with the organizations such as the Chicago Police Department's Women of the Shield program and Explorers' Etiquette Classes.
Like most culinary and hospitality institutes, Washburne has been challenged by the COVID-19 pandemic. COVID-19 remains a significant challenge for Washburne, as some aspects of the Institute's enrollment have been negatively impacted. Furthermore, Washburne closed the Sikia restaurant and the Enterprise department during the pandemic and is currently beginning the planning process to reopen both operations at some point in the near future.We remain optimistic that Washburne will regain full operational capacity with the gradual improvement of the COVID-19 pandemic situation and embrace a very bright future.
Adult Educationat KKC continues to prioritize the quality of academic services, students' experience, and providing career pathways to economic mobility. Over this past year, Adult Education, utilizing the Equity Plan and Strategic Plan, has increased students' digital literacy skills by improving their knowledge of the college's learning management system. The Department has also sustained an Early Childhood Education Bridge program, received approval from ICCB (Illinois Community College Board) to start a Culinary Bridge program in the Fall of 2022, and significantly increased credit hour reporting year over year (2020 – 2021).
A few challenges that Adult Education continues to face are COVID-19 related and human resource shortages. Adult Education students have been faced with pandemic related emotional challenges that impact their ability to remain focused and persistent. Understanding the challenges of the Englewood communities, the impact of the pandemic, and KKC's role and responsibility to the community, Adult Education has joined forces with college partners to implement strategies that address these challenges. Some solutions include: working with the KKC Wellness Center to hold a monthly social/emotional seminar to address trauma and mental health challenges and hiring a testing specialist, which will help our students be more prepared for exams. Prioritizing the college's Strategic and Equity Plans and the collaboration of KKC's Enrollment Management Department, Adult Education looks forward to a successful future.
Another equity-focused initiative includes the creation of the new KKC Tech Launchpad,which was launched in June 2021. This vital initiative was spawned in response to the extreme lack of representation among people of color and women in the lucrative IT industry and the profound digital divide that the Englewood community has been challenged by even more since the pandemic. This community has one of the highest number of households that do not have access to the internet, computers, or smart devices in Illinois. This initiative includes high-demand IT academic programs and a $1million IT innovation facility build-out on campus.
We offer programs such as the iOS Application Development with SWIFT Boot Camp through the Tech Launchpad. Students learn how to build a solid foundation in programming and about the impact of computing and apps on society, economy and culture while exploring iOS app development. We also house the Amazon Web Services (AWS) academy, where students can earn their Certified Solutions Architect Associate Certification. This program introduces them to the fundamentals of the AWS cloud platform. It ensures they are fully capable of identifying AWS terminologies, concepts, benefits, and deployment options to meet the need of many businesses. Another innovative program available to students through the Tech Launchpad is Google IT Professional & Workspace. Students are introduced to an overview of Information Technology and learn about computer hardware, the internet, computer software, troubleshooting, and customer service. Through the Fortinet NSE Training Institute,students earn the NSE4-Network Security Professional Certification, which teaches them the skills and knowledge needed to manage an organization's IT infrastructure and be ready to face today's cybersecurity challengesin an in-demand career field. Our Tech Launchpad offers three programs within cybersecurity, including: the Cybersecurity BasicCertificate,which provides foundational knowledge for beginning students pursuing career opportunities in cybersecurity,aCybersecurity Advanced Certificate,where studentsgain knowledge relating to using and administering network devices and network operating systems, practice ethical hacking, and engage in information security systems analysis. In theCybersecurity Associate in Applied Science program, with a hands-on approach to learning, students acquire comprehensive cybersecurity technical knowledge required in entry-level cybersecurity jobs. With the Associate of Applied Sciences degree in Game Design and Development, students experience a blend of art, design, and technology to create interactive games for the gaming market. This unique program includes game design, prototyping, producing and management, programming, testing, and entrepreneurial aspects of creating games in a multibillion-dollar industry. In the Software Development area of Information Technology, the Tech Launchpad offers a Basic Certificate, Advanced Certificate, and Associate in Applied Science. These programs teach students the life cycle of software to prepare them for in-demand programming languages, including Python, C++, Java, and JavaScript.
The KKC Tech Launchpad is an excellent resource for students and community members ,providingthem ways to get a competitive edge in aglobal field. We look forward to its continued expansion with additional academic offerings in 2022, including Network Security Technology and Web Development where students prepare for entry-level positions in website design and development. The college is working to fill a position for Director of the Tech Launchpad.
KKC has made strides over the past year to impact each of the six strategic levers in our Strategic Plan.
Improving the KKC Student Experience has been essential in supporting Fall to Spring retention. Our team worked to revamp the New Student Orientation program and applied for and received a $12K Catalyst Grant through the generous support of the Crown Family to support our efforts in the launching of the FirstYear Experience (FYE) program. Strategic Objective 1.1 in the KKC Strategic Plan calls for the college to develop and implement a new First-Year Experience (FYE) Program. This strategy focuses on retaining all first-time students, increasing our fall to spring retention, and decreasing the number of students who drop classes within the first zero to thirty hours of enrollment. As a part of the development of this program, we are currently hiring a new Director of FirstYear Experience. The FYE Director will oversee the implementation and growth of the KKC FirstYear Experience Program.
KKC is intentional about narrowing achievement gaps and increasing Equity among our student populations. Our emergingCenter of Equity for Creative Arts (CECA) is an equity-focused initiative designed to incorporateacademic programming and creative arts opportunities in underserved communities lacking the presence of performance and production outlets as well as workforce opportunities. KKC secured a $50K grant from the AT&T Foundation to support educational equity and foundational training exposure for Kennedy-King College students in CECA-related programs. The College started a curriculum proposal for a new film and cinema degree that we plan to launch in fall 2022. Furthermore, we plan to begin the curriculum process for stackable credentials for Art, Music Production, and Theatre Production in 2023. Finally, as the efforts for CECA grew over the past year to include the launching of two music festivals (House Music and Englewood Music Festival), the expansion of the commercial use of our soundstage studios to include: AMC, Comedy Central, Showtime, and HBO Max, as well as supporting the needs of our student experiential learning opportunities, we are hiring a new center director this year.
To be responsive to Economic Needs, we have developed a Community Advisory Committee (CAC) consisting of community stakeholders. These stakeholders represent leaders fromvarious community-based organizations, including non-profits and faith-based and elected officials, K-12, and other civic and corporate leaders. The KKC CAC meets quarterly and operates as a forum for community partners to work with the college leadershipto address the economic challenges in Englewood and Bronzevilleand the surrounding communities which the College serves. The CAC also serves to advise KKC with regards to workforce development gaps and academic program needs.
KKC has also been intentional about stimulating economic and entrepreneurial activity within the local community by leveraging outside partnerships from our CECA initiative to bring in nearly $200K in additional revenue from companies such as: AMC, Comedy Central, HBO Max, OWN, and Showtime. These outlets have utilized Kennedy-King's campus for filming a variety of projects. These strategic partnerships have generated alternative resources, in-kind donations, and revenue for the campus and generated income for local businesses in the Englewood community. The activities of the KKC strategic plan continue to solidify the college as a community socio-economic anchor that strives tocontribute to the economic health and well-being of the surrounding Englewood community.
Kennedy-King College has emphasized collaboration. Within the first year of implementing the Strategic Plan, a KKC Leadership Team Meeting was established as a bi-weekly meeting, consisting of all KKC Cabinet members, Deans, Directors, and Coordinators. The Kennedy-King College of Leadership Team meeting has allowed campus leaders across multiple departments to provide updates on key initiatives and an opportunity to problem solve, share ideas, and collaborate. These meetings have fostered collaborations with various departments while attempting to eliminate silos.
KKC also launched a variety of Strategic Sub-Committees (SSC) to carry out the objectives of all integrated plans, including the Strategic Plan. Seven of the ten SSC's launched in the past year include:
1. ACE2: Academic Curricular Excellence & Expansion Committee (Launched Spring 2020)
o To inspire and innovate quality academic opportunities that ensure academic access and readiness.
2. CAC: Community Advisory Committee (Launched Fall 2019)
o To assist and advise KKC's actions, focus, and capacity to meet the needs of Englewood & the Southside of Chicago
3. CORE: Campus Operational Registration & Enrollment (Launched Fall 2020)
o To address campus operational challenges and opportunities related to registration and enrollment services.
4. DART: Data Analysis Reporting & Trend (Launched Spring 2021)
o To develop and execute reporting and analysis, including dashboards to assess new and continuing student enrollment, retention, persistence, and completion.
5. FYE: FirstYear Experience (Launched Spring 2021)
o To develop new student resources needed for success on the first day and year at KKC.
6. MORE: Marketing Outreach, Recruitment, & Engagement (Launched Spring 2020)
o Develop and track annual marketing priorities, including outline platforms for increased integrated engagement. Reviews and approves recommended actions to SEMSC
7. RFP: Resource Management, Fiscal Accountability & Partnership Development (Launched Fall 2021)
o Ensures that all resources are properly used, managed, and accounted for at KKC and to explore opportunities for partnership and development that could lead to alternative resources.
8. MacKenzie Scott Taskforce (Launched Fall 2021)
o To determine the most impactful and efficient utilization of the MacKenzie Foundation funds for Kennedy-King College
As we move forward with implementing the KKC Strategic Plan, the College's Institutional Health has been paramount in ensuring the institution's financial well-being. Over the course of the Strategic Plan, KKC received several significant grants to support activities that advance the goals of our strategic plan.
• Kennedy-King College launched the Statesmen Scholarship, a $1 million gift from now deceased and former KKC faculty member Florence Ballinger. Since the program's launch in Fall 2020, 344 KKC students have enrolled and received a total of $407,000.00 in scholarship support from this initiative.
• In June of 2021, Kennedy-King College was awarded an unrestricted $5 million grant from the Mackenzie Scott Foundation to recognize the positive impact that KKC is having regarding addressing inequities in the community and fostering student access and success.
• In fall 2021, Kennedy-King College applied for the U.S. Department of Education Predominately Black Institution (PBI) Formula grant and received $1,317,805 to be disbursed over the next five years starting 2021 to 2026 at $263,561.00 per year to support institution-wide needs.
• Kennedy-King College pursued and was awarded three separate Workforce Equity Initiative (WEI) Grants, via the Illinois Community College Board, to include:
o Recipient of a $1 Million Workforce Equity Initiative Grant (FY 2022)
o Recipient of a $1.5 Million Workforce Equity Initiative Grant (FY 2021)
o Recipient of a $1 Million Workforce Equity Initiative Grant (FY 2020)
• Kennedy-King College has seen many positive outcomes related to our strategic initiatives planned over the next several years. While colleges across the country see the continued impact on enrollment due to COVID-19, Kennedy-King College saw some improvements this past fall. Kennedy-King College headcount for credit students increased +10% in fall 2021 over fall 2020. As highlighted in Crain's, we were one of the only few colleges in the state that saw an increase in total enrollment. Additionally, Kennedy-King College saw improvement in application yield from 17% in 2020 to 24% in 2021.
Building a Culture of Excellence has been imperative to making a lasting impact in our institution and the community. One of the foundations of building a culture of excellence is to measure and assess the progress of the College's plans. We have done this through the establishment of the KKC Build Initiative. To ensure the College is taking a coordinated approach to executing our strategic plans, we have launched an integrated planning and institutional effectiveness initiative called BUILD, which stands for Better Unified Integrated Long-term Decision-making. The BUILD structure is committee-based and results from mapping approximately 117 strategic initiatives outlined in our strategic plans (equity plan, strategic enrollment plan, and strategic plan). The KKC BUILD Initiative provides a structured and collaborative process that is data-informed and helps the College actively execute, monitor, and adjust strategic initiatives outlined in our plans. It holds campus leadership accountable for meeting the goals laid out in the various plans while providing an opportunity to make immediate changes to activities that are not moving the Key Performance Indicators (KPI) in the right direction.
The Key Performance Indicators for Kennedy-King College illustrate both successes and challenges. The successes affirm the various strategies that have been implemented in the strategic plan that are having a positive impact. At the same time, the challenges help KKC determine where improvement and focus of our institutional resources are warranted. Several of the successes in our KPIs have been found in KKC's fall-to-spring credit hour retention rates, taking/passing rates for college-level math, IPEDS graduation rate, four-year outcome measure, and the rate of student transfers within two years of graduation. Our focus on creating strategic partnerships has provided diverse revenue funding and support that has helped drive the KPIs. Our partnership focus has led to positive enrollment, retention,and student outcome trends.
We face challenges with increasing unduplicated enrollment in Continuing Education and Adult Education and improving gains in students taking and passing college-level English.In addressing these challenges, we have focused resources towards improving these lagging KPIs. The District CCC Equity Microgrant distributed to KKC in the amount of $40,000 is focused on enhancing the lagging taking/passing English KPI. This grant will provide funding for tutoring software for students in developmental English courses, which will increase the number of students progressing to college-level English courses. Moving forward into this new year, KKC will also concentrate its efforts to improve Continuing Education(CE) and Adult Education (AE) enrollment KPIs.We look to do this by developing new CE online courses and program offerings that are attractive to the community. In the Fall of 2021, we conducted a research study of our CEand AE courseofferings and enrollment spanning over five years. This study provided campus leadership with information to make data-driven decisions on CE and AE course and program offerings in the upcoming terms that will help improve both theCE and AE Enrollment KPIs.
Kennedy-King College will continue to prioritize entrepreneurial efforts in generating alternative revenue streams to reduce our reliance on revenue from student tuition, increase the institution's capacity to provide scholarships and resources to students, and address the KKC's various fiscal needs. Our partnerships through CECA and the KKC Tech Launchpad exemplify how the College has generated alternative revenue streams via ethical and relevant corporate collaborations. KKC will further enhance its entrepreneurial approach to strategic corporate partnership building.
With great enthusiasm, Kennedy-King College looks to continue to serve as a beacon of student access and success on the South Side of Chicago. KKC will continue to provide a strategic pathway and embrace students from all backgrounds while providing a challenging yet empathetic learning environment that offers practical teaching strategies and student activities and services designed to foster impactful student engagement in and out of the classroom. Kennedy-King College understands that it will encounter challenges during the next five years. Yet, KKC is fiercely determined to continue improving and providing significant opportunities for upward socio-economic mobility.It will champion Equity for our students as we help themDream Bigger and Do Greater.
Sincerely,
Dr. Katonja Webb
President, Kennedy-King College
President Gregory Thomas
Kennedy-King College
"Innovation is possible when we inspire pride and excellence on campus, and in our community, to make a sustainable impact."

Mission
As Kennedy-King College recently reached 50 years of its renaming, it found it essential to reframe the future identity and direction of the institution. Through a comprehensive process of stakeholder engagement that included faculty, staff, and students, the institution is pleased to formally recommend a new mission statement in parallel with this strategic plan.
Kennedy-King College transforms lives and communities through the power of education by providing accessible, culturally diverse, exceptional, and globally competitive programs that empower all learners to achieve their intellectual, social, and economic goals.
My classes without a doubt provided me with a foundation to be able to step in on day one and be able to work with the team at my new employer. I haven't felt overwhelmed because I had those classes to prepare me.
My classes without a doubt provided me with a foundation to be able to step in on day one and be able to work with the team at my new employer. I haven't felt overwhelmed because I had those classes to prepare me.
My classes without a doubt provided me with a foundation to be able to step in on day one and be able to work with the team at my new employer. I haven't felt overwhelmed because I had those classes to prepare me.
Johnny Horton,
Kennedy-King College alumnus, hired by City Colleges partner
Summary of Strategies
Six strategic levers form the framework for all of City Colleges' plans. They serve as guiding principles and beliefs that are fundamental to the holistic success of our plans. The six strategic levers and their goals are:
To read more about the strategies and tactics that Kennedy King College will use to achieve its objectives, download the full Strategic Plan.
FY21-23 Targets and FY20 Outcomes
City Colleges sets a range of outcomes for its goals in future years, consisting of a "target" that establishes the baseline for accountability and a "reach" that reflects its full ambition. The table below summarizes these goals for FY21-FY23. Targets for FY24 and FY25 will be finalized in FY23. All figures are rounded to the nearest whole number.
These targets were identified prior to the onset of the COVID-19 pandemic. At the time of publication, the long-term effects of COVID-19 on community college enrollment and student success are uncertain. In the short-term, it has had a significant negative effect, with all but three community colleges in Illinois seeing enrollment declines. City Colleges will continue to strive to achieve these targets, knowing that COVID-19 will have an impact throughout the life of this plan.


FY20 Results & Targets
See the glossary for the definition of Adult Education Level Gains.  Adult Ed Level Gains were not calculated for FY2020 or FY2021 due to COVID-19 disrupting testing procedures.
FY 20
Results & Targets
See the glossary for the definition of First Year Fall-to-Spring Retention.
FY 20
Actual: 61% (95% To Target)
Actual: 57% (86% To Target)
Results & Targets
See the glossary for the definition of Fall-to-Spring Credit Retention.
FY 20
Actual: 59% (90% To Target)
Actual: 60% (88% To Target)
Results & Targets
See the glossary for the definition of Taking and Passing College-Level English.
FY20 Results for this measure were updated in April 2021 to correct a technical error.
FY 20
Actual: 20% (69% To Target)
Actual: 25% (83% To Target)
Results & Targets
See the glossary for the definition of Taking and Passing College-Level Math.
FY20 Results for this measure were updated in April 2021 to correct a technical error.
FY 20
Actual: 13% (79% To Target)
Actual: 14% (78% To Target)

Results & Targets
See the glossary for the definition of IPEDS Graduation Rate.
FY 20
Actual: 29% (99% To Target)
Actual: 24% (100% To Target)
* Preliminary, pending IPEDS submission
Results & Targets
See the glossary for the definition of City Colleges Four-Year Outcome Measure.
These targets were updated in April 2021 to correct a technical error that occurred in the target-setting process.
FY2020 was a baseline year for the new CCC 4YR Outcome Measures KPI; targets were set for FY2021 onward.
FY 20
Actual: 33% (98% To Target)
Actual: 35% (100% To Target)

Results & Targets
See the glossary for the definition of Transfer with Degree.
FY 20
Actual: 39% (42% To Target)
Actual: 45% (102% To Target)
See the glossary for the definition of Economic Mobility.
City Colleges will begin using this measure in the early stages of this framework. As a result, there is no baseline or targets for this indicator as of its publication.

See the glossary for the definition of Net Promoter Score.
City Colleges will begin using this measure in the early stages of this framework. As a result, there is no baseline or targets for this indicator as of its publication.